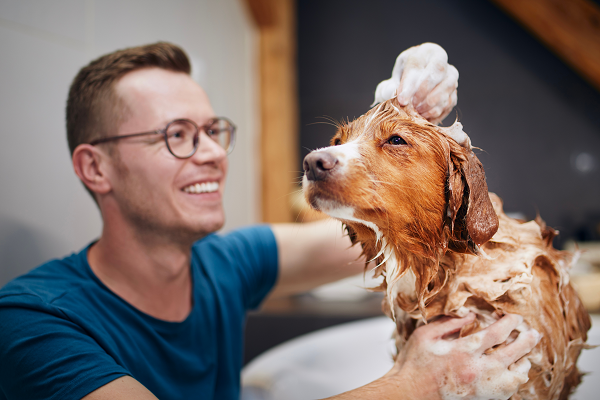 As any pet owner knows, caring for a pet can be expensive. These days, everything seems to cost more, and as your own costs of living increase, so do the costs of caring for your pet. Add up pet food, veterinary care, grooming, or other expenses, and it may start to seem overwhelming.
The good news is that, with some smart strategies and practical choices, it's possible to reduce these expenses without compromising on the quality of care you provide for your pet. In this blog we'll explore budget-friendly ways to feed and care for your pet, ensuring their well-being while being mindful of your finances.
Preventive healthcare reaps rewards
The best way to save on costly vet bills is to keep your pet healthy! Taking proactive measures to prevent health issues can save you money on expensive veterinary treatments down the line.
One key way you can keep your pet healthy is by helping them maintain a lean body weight: provide vet-recommended amounts of food, lots of water, and plenty of exercise.
Schedule regular check-ups, vaccinations, and preventive treatments for parasites like fleas and ticks.
Brush your pet's teeth regularly, which is good for their overall health and can help reduce periodontal disease and associated costly procedures.
Preventive care is usually more affordable than treating advanced conditions.
Make your own treats
While treats can be a great way to reward and train your pet, they can be expensive. Consider making homemade treats using simple ingredients like sweet potatoes, carrots, or peanut butter. Many recipes are available online, and making your own treats allows you to control the ingredients and portion sizes, ensuring a healthier and cost-effective option. Remember though, some tasty ingredients could hurt your pet – make sure you consult your veterinarian to make sure your treats are healthy and appropriate.
Do-it-yourself grooming and hygiene
Cutting your dog's hair or your cat's nails may seem like a daunting task, but with time, patience, practice, and the right tools, you can handle basic grooming tasks at home – and save some cash. Invest in grooming tools like brushes, nail clippers, and pet-friendly shampoos. Check out some tutorials online or get ask for advice from your veterinarian, then dive in. By grooming your pet yourself, you not only save money but also strengthen the bond between you and your furry companion.
Ask for Help
If you find you can't care for your pet the way they deserve, or if you are sacrificing your own health for your pet's, don't be afraid to ask for help! There are many organizations and charities that can help you through difficult times. Check online to find pet food banks in your area; contact local animal welfare groups for assistance; or ask your veterinarian for direction. And if you find yourself in a time when you have a little extra, consider donating back to these organizations to help others.
Caring for your pet on a budget requires a combination of smart choices, creativity, and some extra work. By prioritizing preventive healthcare, minimizing treat expenses, and practicing DIY grooming, you can help ensure a happy and healthy life for your furry companion without breaking the bank.
And remember, the most important aspect of pet care is the love and attention you provide – and that's free!