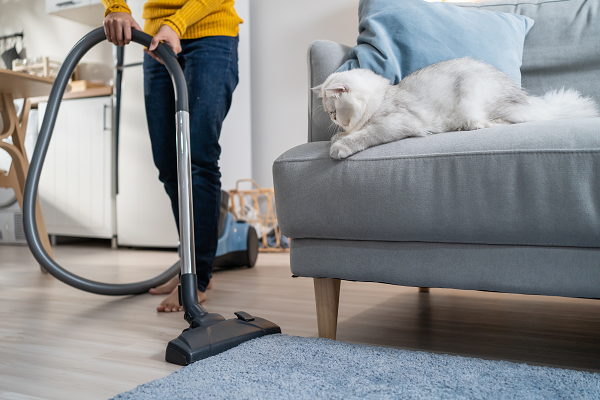 As much as we love our pets, they can be messy. They can track in dirt, have accidents, knock things over – and shed more hair than seems possible. It's worth it in the end, for the joy and companionship that they bring us, but is there a way to make it easier?
The answer is yes. Pet mess doesn't have to be overwhelming. Here are a few tips, tricks, and strategies you can use to stay ahead of the dirt.
Groom them regularly: You can't avoid pet hair entirely, but you can reduce the problem by creating a regular grooming schedule. Regular brushing – outside or at a groomer's – will significantly reduce shedding inside the home. Baths can also help, but ask your veterinarian how often you should bathe your pet and what shampoo you should use. Bathing too much or too little can cause skin problems, depending on the dog's breed and any underlying health conditions.
Make pet-friendly zones: To make cleaning more manageable, consider limiting your pets to certain areas of the house. Set up pet-friendly areas with all their essentials – food, bed, toys, and a litter box for cats. That way, you can focus your cleaning on a few zones, rather than the whole house.
Protect your furniture and floors: Cover your furniture with washable covers or blankets and put mats near the door to collect dirt and debris. When they get dirty, they're easy to wash! Consider investing in furniture that is durable and stain-resistant – fabrics like leather and microfibre can withstand pet accidents or muddy paws. You could also consider installing easy-to-clean flooring, like laminate, vinyl, ceramic, or hardwood.
Clean up now, not later: Accidents are an inevitable part of pet ownership, and it's crucial to clean up right away if you want to prevent stains and odors. Muddy feet are also inevitable. Rather than clean up tracks through the house, towel off your dog's feet as soon as they come in the door and avoid the tracks entirely. Better yet, buy your pooch some boots for rainy days!
Get some fresh air: You may not see it, but pet odors and dander can linger in the air, even when your house is spotless. Open the windows for some fresh air and ventilation – it's good for you and your pet. Consider using an air purifier with a HEPA filter to capture all those particles. Remember to regularly replace the filters in your furnace or air conditioner to maintain air quality.
Wash their toys and bedding: Just like toddler toys, pet toys get slobbered on. It's sanitary to keep them clean, and it cuts down on pet smells in your home. Your pet likely spends a lot of time in their bed, as well, leaving hair and dirt behind. Wash their bed or bedding regularly, just like your own, to reduce smells and provide a clean retreat for your pet.
Invest in a great vacuum: In the end, after you've tried your best to prevent and contain mess, you will still have to vacuum (or sweep). If you can, consider getting a robotic vacuum to do the work for you. Either way, if you do it regularly, it will seem like less of a chore.
Keeping your home clean and fresh while sharing it with our beloved furry friends is not impossible, and it shouldn't be overwhelming. These simple tips will cut down on the fuss and muss that can come with pets, so that you can focus instead on the fun and memories.